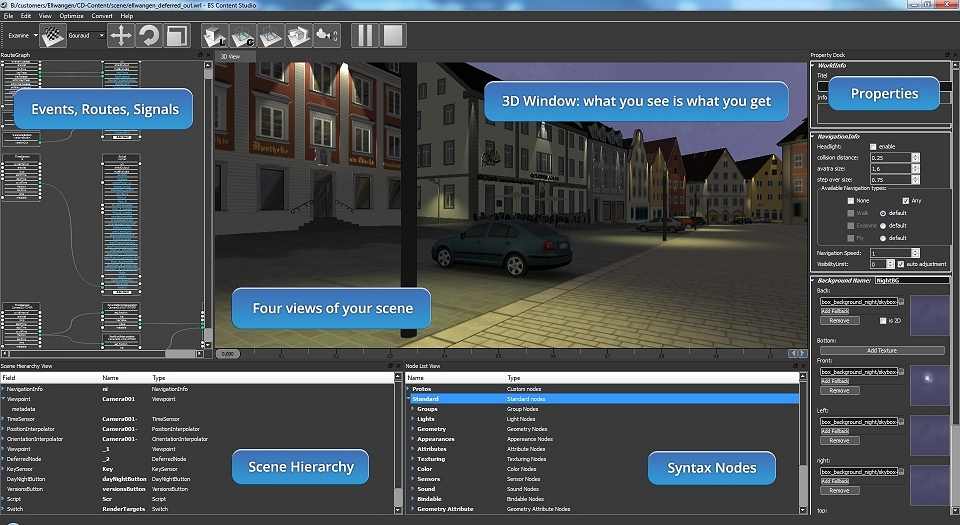 3D anywhere
New authoring tool for easy and fast creation of 3D scenes and apps. Author once - deploy anywhere - Windows, Mac, Linux, iOS, Android, IE, FF, Chrome, Safari, HTML5 / WebGL.
Contact us for more information about your favorite deployment platform at info@bitmanagement.com

Visual programming using graphs
and drag & drop

Merge objects with the scene

Optimized output for web
Features of BS Content Studio
Transform (translate, rotate, scale, manipulate center) scene elements
Edit the appearance of shapes.
Create animations by manipulating fields
Optimize scene by static batching or instance batching





Export into VRML, X3D, X3DB, X3DOM Web3D ISO standard formats
Optimize or Reduce mesh complexity by planar or cell reduction
Scene property editing for Worldinfo, Background, and Navigation
Display of route graph for easy editing




Interaction: Just connect routs and events visually. It has never been so easy to get your own interactivity into your scenes.

Visual User Interface Interactivity with 3D objects and sensors that fire events and change the scene by mouseclick.




Visual animation designer: Just click your animations and play them in 3D.

Visual user interface for easy animations. Move your objects bxy mouseclick and record the movement. Animation of a driving car. You can move the car visually by mouse-drags. The interpolation of the animation of a driving car is done internally.

Sophisticated Script-Editor: If you do not want to work visually, you can use our advanced editor for sophisticated programming.

Advanced textbased sourcode editor with syntax tips highlighted.

Dynamic Shaders: Put in light and shadows

Setting prepared dynamic shaders for lighting and shadows

Polygonreduction: Reduce the polygon count of your objects for faster online delivery and animation.

Visual User Interface for polygon reduction

Encryption of 3D content: Encrypt your 3D work for saver usage on the internet.

Automatical encryption of 3D content

Binary output: Load and transfer your 3D faster by binary output optimized for the Internet.

Transcoding of X3D textfiles into binary X3DB Files. X3DB Files are much smaller and load much faster. The export of the 3D szenes above as X3D and X3DB files. File size reductions can be 40% and more depending on the content.

Windows and Mac version: Use BS Content Studio on your favourite operating system.

BS Content Studio has been developed to be platform independent. It can be used on Microsoft Windows and Apple Mac computers.
Video developer demos
Exporting into different file formats

In This developer demo we demonstrate the ability of BS Content Studio to export your 3D scene into different file formats like VRML, X3D, X3DB or the plug-in less WebGL format X3DOM.

Scripting

In this developer demo, we show how advanced scripting works with the embedded editor.

How to navigate in 3D

In this video we demonstrate the different navigation types and their control.

Customize your User Interface

In this developer demo we demonstrate the customizable and flexible user interface of BS Content Studio

Parallel animation

In this developer demo, we show how to animate paralel objects.

Animation

In this Video we show the easy way to animate objects in 3D.