BS Collaborate designed for virtual reality applications from games up to cooperative work enables customer in combination with the basic visualization component BS Contact 7.2 (and higher) to realize real time communication between 3D objects like avatars in shared environments as well as collaborate working on 3D models with standard pc on the internet.

BS Collaborate /BS Contact support relevant 3D functionalities like positioning of avatars or 3D chats in combination with data bank access. The general features for communities can be fostered from basic software like drupal.com.

BS Collaborate package consists of two components, (1) the collaborate server and (2) the adjusted BS Contact 7.2 Client. For using the below mentioned application please download from the download center the multi user Soccer Demo in it's latest version of BS Contact 7.2.

The following documentation describing the server software is available for download.
The BS Collaborate Tutorial describes how to connect the customer with the server and to control avatars in their application.

For testing the server software in the customer's application and for integrating the BS Collaborate in the content please download the BS Collaborate server at our Download Center.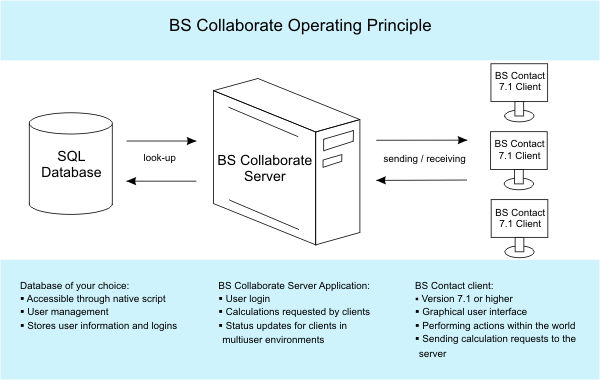 Technical Demo
See our Multi-User Soccer Arena under Multi-User Soccer Demo
(for this demo, the password should match the username you will pick)